The most beautiful town, Venice aside, was Como for us. No wonder George Clooney, who is like a local god there, moved to that town. It has endless winding streets full of booty, reminding me a bit of Aix. They have old, incredibly inexpensive shops (especially hardware stores), but they also have all the D & G and Versace, etc.
I was also very, very lucky to happen across this great collage exhibition by
Giannetto Bravi
. It's like the show was made for me.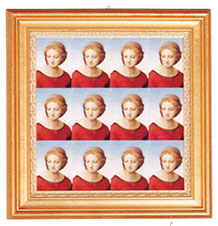 You walk into this old church. Architecturally things are pretty rough, unembellished. All the pieces are hung tightly together, uniform in their pastel frames of candy colors - pink, mint green and yellow. What's held inside is all the greatest hits of art history, one particular image repeated flawlessly in a grid.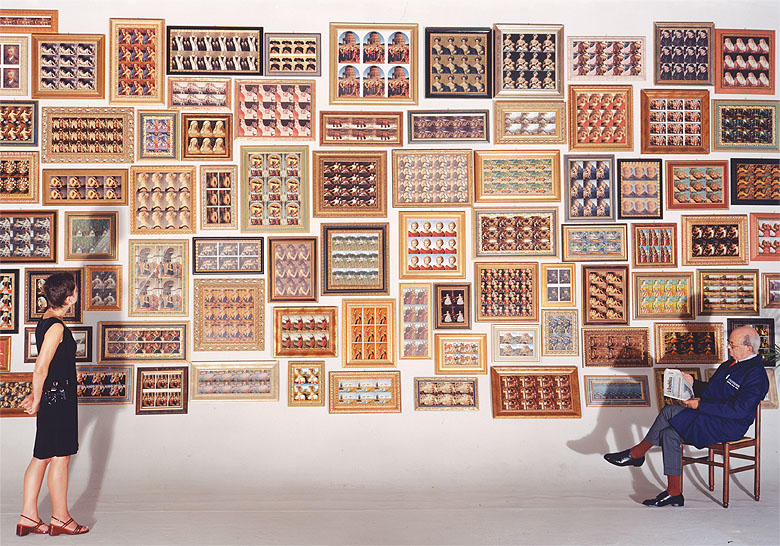 As I toured around I gleefully identified works out loud, like a child names off the signs on the highway: old masters of all sorts but also Modernists - Italian Futurists, Surrealists, Post-war. The artist also presented works in groups – portraits altogether, or still lifes or landscapes.
Occasionally I would go back to the table, manned by a quiet gentleman, searching for something I could read. Nothing was in English, though there was indeed plenty of propaganda available.
It was only as we were walking out of the show that I saw this banner, very large in size at the door. I then realized that the man in the custodian outfit, the artist, was also the man at the desk. There he was, carrying a group of Klimts. And I so returned.
And as it is with artists, even though we could barely communicate, we had things to say and share. When I told him that the postcard collages reminded me of Gilbert and George and their own efforts in the same area, he said: "Yes, I have used them too." I'll bet he has! He had to have known that I was loving what he was doing and he gave me not only a cool, large pamphlet but then this BIG, JUICY book which is a work of art in its own right. Half of it is printed upside down.
Unfortunately it has been difficult to grasp all that he is doing because very little is translated. Google tells me he has been in mail art shows, but if you try to have them translate a page, it is chaos. I understand that his work is "The Collage of Master" and that he claims to be the Collage Curator, looking after the Gallery of Galleries, helping collectors decorate their walls with whatever works of art they wish.