Before I knew about the collage artists of Dada, I was into the work of Richard Hamilton. Perhaps my oldest art pal, Ross Sutherland, turned me on to him in high school. I love the way he combines found photographic materials with paint. The painting is very impressive. It is true that he doesn't have a lot of rough, expressive edges, something which might be held against him, but I love it all, including the slickness. When we think of collage, he's not the first to come to mind, but him, along with Eduardo Paolozzi, contributed immensely to Pop Art.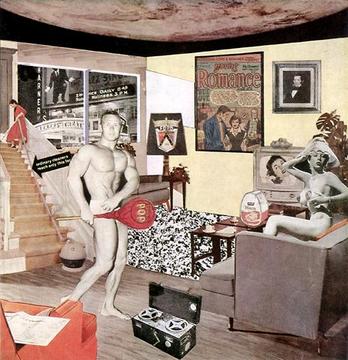 I'm pretty sure it was at the Clocktower in NYC where I got to see, sometime around 1990, his famous exhibition with the Independent Group's
This is Tomorrow
. It was so great to see a show all redone like that, one I had read so much about. It was also weird to see it all reduced down to that fairly small collage:
Just what is it that makes today's homes so different, so appealing?
Such a small piece to pack a far-reaching, big punch.
He made some great statements about men, women and marketed style. His series
Towards a
definitive statement on the coming trends in men's wear and accessories
was great, as are his
Fashion Plates
of women.
The August
Art Review
has a fun interview with him, including works that he now has up in
Venice.
He is doing more interiors, sort of like the one above but way different. The new works seem to me to be almost Classical in their posturing but also glacially contemporary. I am not sure what to do think, but I am actually going to see them in person soon.