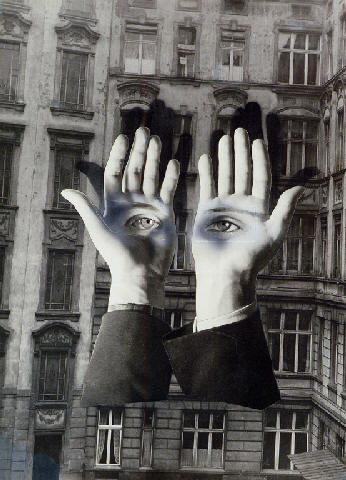 Scraptorium
wrote about hauling in a new, abundant (and cheap!) stash of magazines – I know the feeling, one of the best feelings for a collage artist. The future all lies out ahead. One of the most luxurious times is just reading all the stuff before you cut it up. I am not sure if other collage artists do this, but for me it is essential.
Scraptorium's stash held
Fortune
– one of the best designed magazines of the 40s and 50s. I especially loved all the sleeves designed by
Herbert Bayer
.
I met Herbert Bayer once, at a show he had in SF in the 80s. He had been a student at the Bauhaus, under Kandinsky, Gropius and Moholy-Nagy. His name might not be all that famous, but when you see his work, you know you've seen it before. Some say that outside of a few outstanding montages, he was merely a proponent of
"Good Design."
This, however, is no small achievement.
The Lonely Metropolitan (above) is one of my favorite photomontages. I wrote a poem based on the collage and when I used to read it at readings, I would pass the image around.
Anyway, the course of notes at Scrapatorium refer to coating collages with something as a means of archiving them. This reminded me of something I used to do, although a little different, and I wonder of anyone is doing this now:
In high school, the first photomontages I ever made, we laminated them with a laminating machine... sort of like ironing on a shiny coat….
Then
... I put those collages under water, soaked them and the lamination separated from the paper with the images on it! So I had see-through photomontages which I then adhered to a window - like stained-glass but with photographic images instead. I recall very well one that had early pictures of Lucille Ball with flaming red hair. I also recall that this technique only worked with fairly sturdy paper, nothing too vulnerable.
Eventually I removed these collages from the high school art room windows and glued them on my index card boxes for my debate class, which was not a great use of them, but my card boxes looked like no one else's.
Has anyone done this lately? Or seen it done? The only time I ever did that was back then, early 70s.