Awhile ago I recounted how someone in the mid-80s told me that I was perhaps as good as Hannah Höch, but that I'd never make it as a collage artist. She might have been on our minds because this conversation occurred in San Francisco and Modernism had just mounted a Höch show. Instead of dwelling on hot I was, to just be in the same universe as Hannah Höch, I went down the other path, dressing myself up as a painter and retreating from showing montages.
Of course there could be a lot of hand-wringing over this, but then again, it doesn't hurt to pose the question: just who was Hannah Höch in 1985? How was she perceived? And the answer is she was not the same as how we look at her now.
Recently I checked out
the Photomontages of Hannah Höch
, published by the Walker Art Center in 1997. This book has given me a perspective on her life and work that is both inspiring and a bit depressing.
When I first discovered Dada in the 70s, I read everything I could find. There wasn't much on Höch at all, no monographs that I could find. And so I bought my books on Heartfield and became the resident expert on him. I'd say that I still love him best today, but then again, it's not like I had all this choice. You can't like what you don't know.
For years Höch was only known within a certain context: the Dada years. She was even called "the Good Girl" by Hans Richter, a dismissive remark if there ever was one, especially if you compare the work of the two artists. He made nice abstract films, while
Cut with Kitchen Knife
is just the tip of the iceberg on the tough cuts Hannah Höch achieved over a lifetime of art-making.
And that's the real deal: emphasis on a lifetime. I knew she was working into old age only because she was listed in Femail Art, produced by Anna Banana in 1978. Her address was listed in the back pages, along with Yoko Ono's (and my own). As soon as Femail Art came out, I was writing these illustrious women. I wrote the letter to Höch all in German, which I had studied in school. The letter was returned with something like Abgestorben stamped all over it. I was just a little late – she was dead.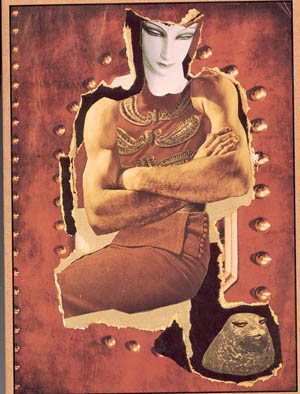 "I'm sick and tired of Dada," Höch said in an interview in 1976. "Slowly it's becoming played out. Everything else that has developed goes unnoticed."
- She's talking about her own work decades after that movement, when she continued to invent photomontage. She combined it with paint, she referred to the history of art, she took on feminist concerns in ways no one did. She was also working in embroidery, fashion and what we call craft. She had access to fashion patterns, strange mechanical, factory patterns and used them all. The woman was all over the place and way ahead of her time, but she was still called The Good Girl. It was right there in her obit in 1978.
Not that she didn't undermine her own career. She showed only painting for years, thinking either no one will value her collages (this sounds familiar) or because they can get her into big trouble. She stayed in Berlin while the rest of the world either moved or perished. And works were also often undated and unsigned, with the artist uncertain or wrong about their origin - which doesn't exactly tell us that she thought it all mattered. She was quietly working in a place where she just hoped no one would find her. The switching of gears after the Second War was not that easy.
Still, her confidence in her diversity of materials is obvious.
Cut with a Kitchen Knife
is the big image to get thrown into every modern art history class, but why is it the only one in a career which fruitfully expands over six decades? This book makes the point that while the fellows received more play and credit, they pretty much wrote their signature song in their career launch. Not so with Hannah Höch, who raced through themes and materials right into the 1960s, looking very sage and Mod at the same time.