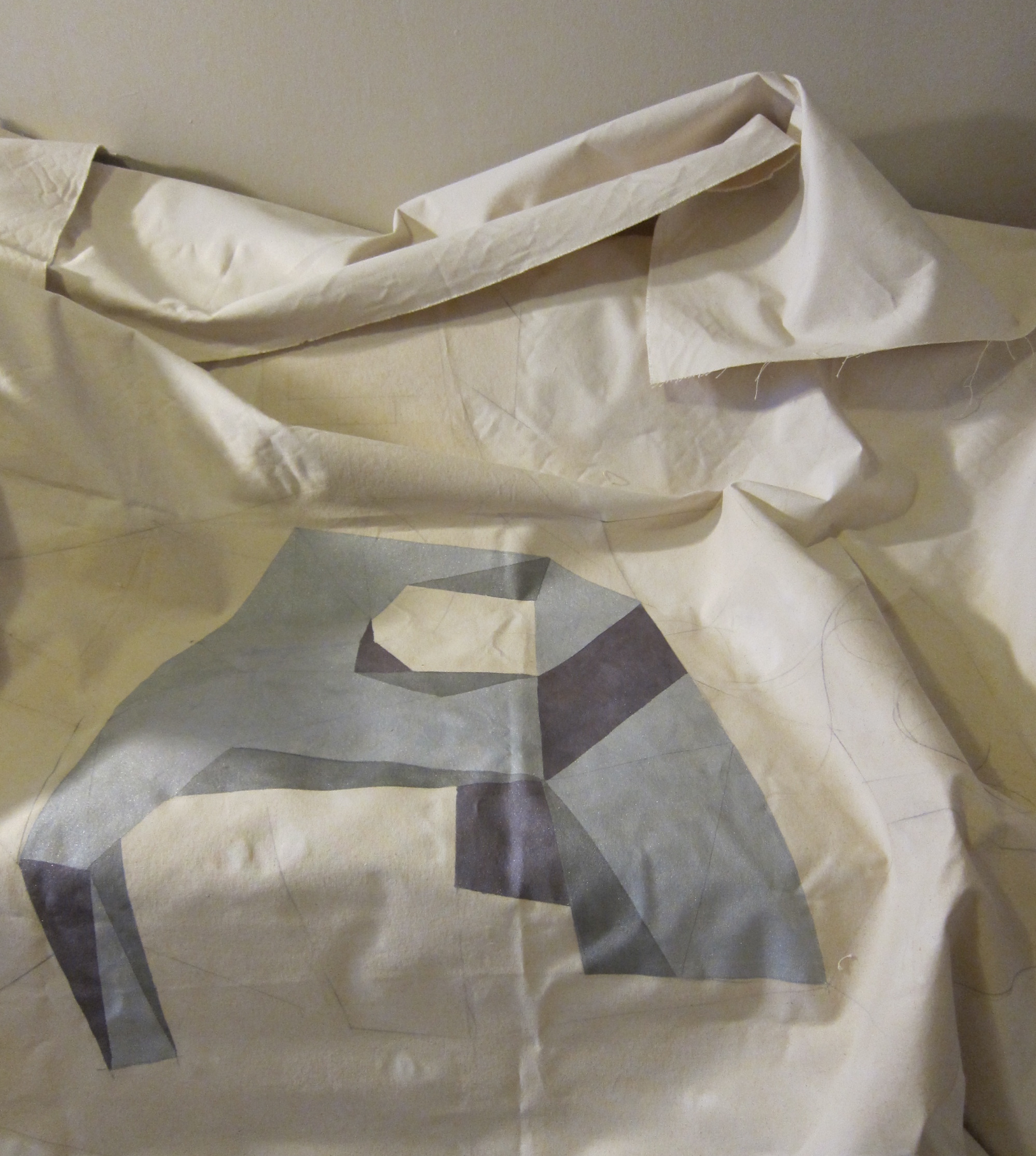 Recent paintings by Sharon Butler investigate the objects of everyday life while riffing on a casual, everyday practice of painting. In "Staples," Butler uses to common staple as the formal image. Save of course, like any New Casualist, the form is far from formal. It appears sketchy, in progress, perhaps undone. The incompleteness asks us to look further at just what is actually there. In the case of this painting, the canvas is loosely stapled to the stretcher bars. A provisional presentation is celebrated, almost like nostalgia for more simple times or a beginner vision. "Staples" mean more than one thing and act in more than one way. The means and the material are all in a transition, no set program or agenda in place, no direction home.
"The New Casualists" was actually the name of an important 2011 essay by
Butler
for the
Brooklyn Rail
, in which describes the trend of non-formalism in abstract American painting. While Butler doesn't toss her own work into the ring in the essay – her work isn't completely abstract anyway – and she's also claimed right in her blog
Two Coats of
Paint
that she is far too much a hand-wringer to be called such - the article indicated a wider net of theory and zeitgeist into which some of her work belongs. She has certainly got "a studied, passive-aggressive incompleteness" down.
Mind, the reproductions on her own website are often in-studio shots, meant to reveal process and place as well as object. Everything appears to be on an equal footing. As we move through
Butler
's work in terms of images, in terms of paint but also in terms of writing, we can see that the process and shift of work is an ongoing verb rather than a noun. With her hands in so many different mediums, wearing just about every hat you can wear in the art world,
Butler
's own paintings reveal a restlessness and breathlessness, disguised by a humility and earthiness which is probably not telling the entire truth.
The paintings often feel like track marks, where wayward stains and bleeds mesh with layered lines. Paint is mixed with graphite, as if to tell us that drawing came first and will not go away. In this regard none of the pieces feel like pure painting, whatever that is. There are watery bleeds and washes matched by tentative pauses.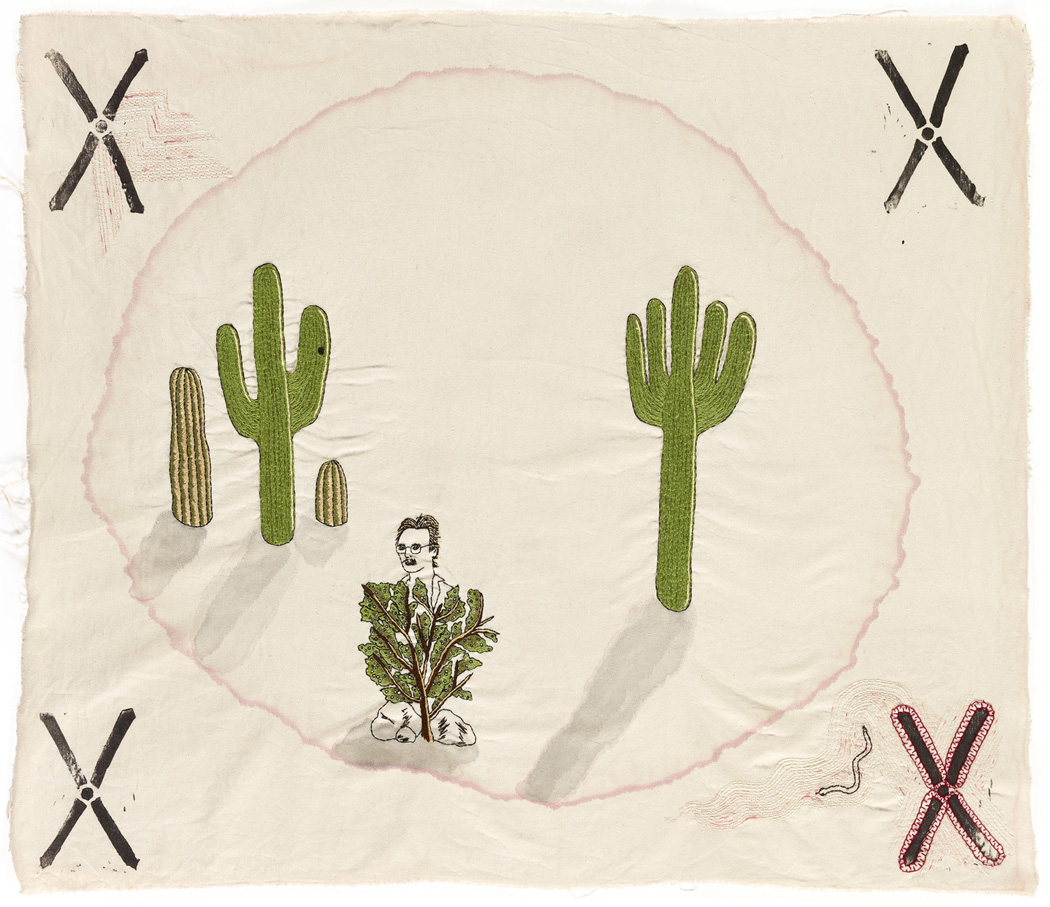 Allison Manch, who shares exhibition time with Butler at Season, uses bleeds, stains and washes too. The stains become the background for her illustrative embroidery. And while both Manch and Butler may have used a bigger, more varied palette in the past, the newer work claims a more subtle color story, as if color is beside the point.
Manch creates characters and storylines atypical of embroidery, some fantastical, some nostalgic and some based in current cultural climes. No doubt she is a forceful proponent of what the Museum of Contemporary Craft in Portland, Oregon so ardently described in the title of their popular and occasionally profound exhibition "New Embroidery: Not Your Grandma's Doily" in 2006. Like those artists, Manch embraces homespun mediums while addressing a variety of more contemporary themes and images.
Her work is also not tied to a smaller scale so typical with this medium. In "Gimme Shelter," Manch presents a 50 square inch quilt with ragged edges and bleeding, irregular edges in the text, same as the title. The heroic urgency in the capitals is complemented by the washes and blurs. The artist also repurposes found hankies which already have extensive embroidery. She adds to them, creating a narrative where there once was just design and pattern.
"Father," a 12 inch square piece, details a more hippie-than-hipster male holding a white dog. The bleeding color around him becomes an oval, reminding us of a somewhat more traditional portrait. Then there is "Smoker," a tiny 7 inch square hanky with an embroidered man doing just what the title says.
One of the best pieces has cacti and formal Xs in the four corners, with a man behind a bush in the center. The artist states it might be called "Stalker" but is actually as yet untitled. While embroidery asks for many lines and dots from the maker, the pieces are fairly reductive and direct, a fact driven home by the simplicity of her titles. In general too the pieces, especially the figures and faces, seem very west coast, if not "Western" altogether. In this respect the work can feel rugged and warm.